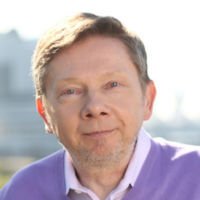 Eckhart est un professeur spirituel et un auteur, né en Allemagne. Il a fait ses études aux universités de Londres et de Cambridge. À 29 ans, une profonde transformation intérieure change radicalement le cours de sa vie. Les années suivantes ont été consacrées à la compréhension, à l'intégration et à l'approfondissement de cette transformation, qui a marqué le début d'un intense voyage intérieur. Plus tard, il a commencé à travailler à Londres avec des individus et de petits groupes en tant que conseiller et enseignant spirituel. Eckhart partage son temps entre la Colombie-Britannique, le Canada et la Californie. Eckhart Tolle est l'auteur du best-seller n ° 1 du New York Times, The Power of Now (traduit en 33 langues), et de la suite très acclamée A New Earth, largement considérée comme l'un des plus influents livres spirituels de notre époque.

Les enseignements profonds mais simples d'Eckhart ont déjà aidé un nombre incalculable de personnes dans le monde entier à trouver la paix intérieure et un plus grand épanouissement dans leur vie. Au cœur de ses enseignements on retrouve la transformation de la conscience, le réveil spirituel qu'il considère comme la prochaine étape de l'évolution humaine. Un aspect essentiel de cet éveil consiste à transcender notre état de conscience fondé sur l'ego. C'est une condition préalable non seulement au bonheur personnel, mais également à la fin de la violence sur notre planète.

Intervenants. Lien vers cette page.